Wireless Outdoor Motion Sensor PH-WSWHW
Outdoor use IP65, wireless transmitting, lower false alarm
Hotline: 086-0755-26498270
Fax: 086-0755-83976450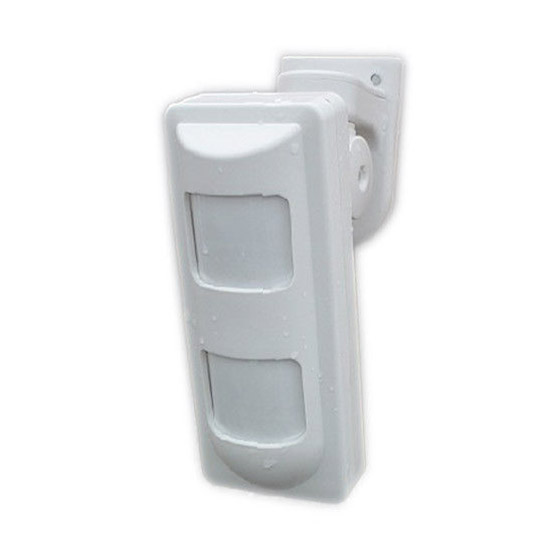 PH-WSWHW
adopts intelligent multi-grade digital recognition technology and unique SLT calculation to process
two - way special PIR signal and 1 way environmental temperature signal to reach the topgallant detection and lowest false
and missing alarm.
It can recognize waving object and real human motion; resist direct or reflective sunshine and
accommo-date the false alarm caused by speedy hot and cool air.
It can operate in outdoor severe environment for long term. 8 bands of sensitivities for option, can take on the weather
difference caused by rain, snow, hail, strong sunshine, gale etc, it is a purely high-class outdoor detector worthy of selection
and usage.
Specification:
2 Dual PYRO Sensors

VLSI based electronics with movement speed spectrum analysis.

8 bands of sensitivities for option

Anti direct or reflective sunshine

Anti strongly mutative hot/cool air

Pet immunity:≤25KG

Digital environmental temperature detection

Purely wireless transmitting structure, easy installation

Tamper & low voltage alarm

IP65 water proof, high-strength optical system

Lens for option: long range, curtain, pet immunity

Installation way: wall mount, corner mount, ceiling mount

Transmission frequency for option:315MHz / 433MHz

Mounting Bracket adjustment options: 90° ( h) and 30° ( v)
Model No: PH-WSWHW


Power Supply (V)

3.7V lithium chargeable battery

Low Battery

Green Indicator, Low 2.4V alert

Quiescent Current (uA)

70

Alarm Current (mA)

20

DC Power Input

9-16V DC 200mA (DC power)

Battery Life (Year)

1

Detection Range (m)

9-12

Low battery alarm

3.2V

Temperature compensation

Intelligent digital compensation

View Angle (degree)

110°

Transmission Frequency

433MHz/868Mhz

Sensitivity

8 Grades adjustable

Unobstructed Effective Range (m)

30-50

Response Time (s)

2

Coding Type

Learning Code/scan QR code

Installation

Wall, 1.8 - 2.4m

Operating Temperature (°C)

-10~+50

Operating Humidity (RH)

95%

Dimensions (L x W x D, mm)

160mm*65mm*50.5mm
hot key:
Alarm system,home alarm system,wireless alarm system,Alarm Security,Alarm Wireless
*

Indicated required field
Inquire: Wireless Outdoor Motion Sensor PH-WSWHW
*

First Name:

Please fill in your First Name

*

Last Name:

Please fill in your Last Name

Company name:

Please fill in your company name

Telephone number:
Mobile phone number:

Please fill in your telephone number

*

E-mail:
Country:
Address:

*

Inquire intention description:
Please fill in the quantity and description of

Inquire

products for uniform stocking.