Smart Alarm Systems Vcare 2
Vcare is a smart security system which combines all in one intruder alarm system including security camera, panic alarm, SOS service...
Hotline: 086-0755-26498270
Fax: 086-0755-83976450
Vcare Smart Wi-Fi & GSM/3G Security System

Video link on Youtube: https://www.youtube.com/watch?v=L9S-jH3r5ok
Vcare is a smart security system which combines an all in one intruder alarm system including security camera, panic
alarm, SOS service and home automation. It transmits alarm information through WiFi and GSM/3G Telephone line/TCP/IP dual-network in a fast, safe and simple way.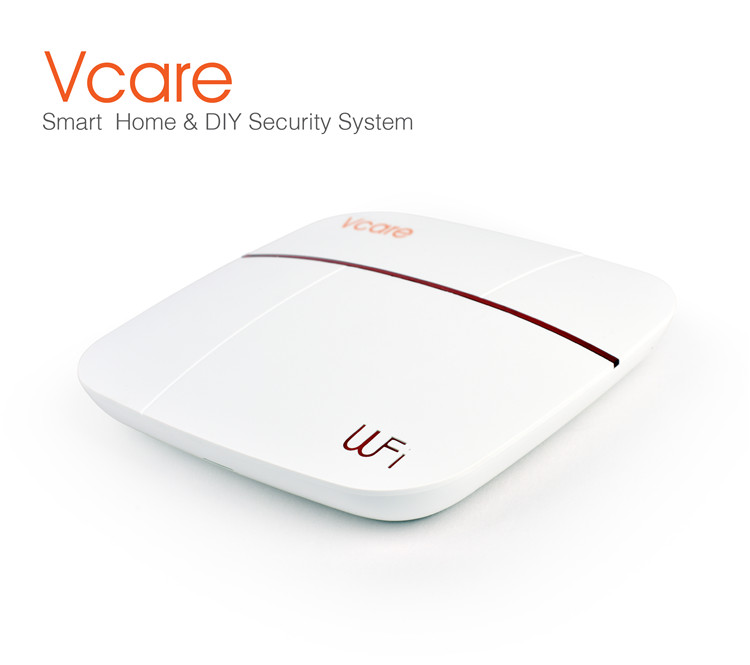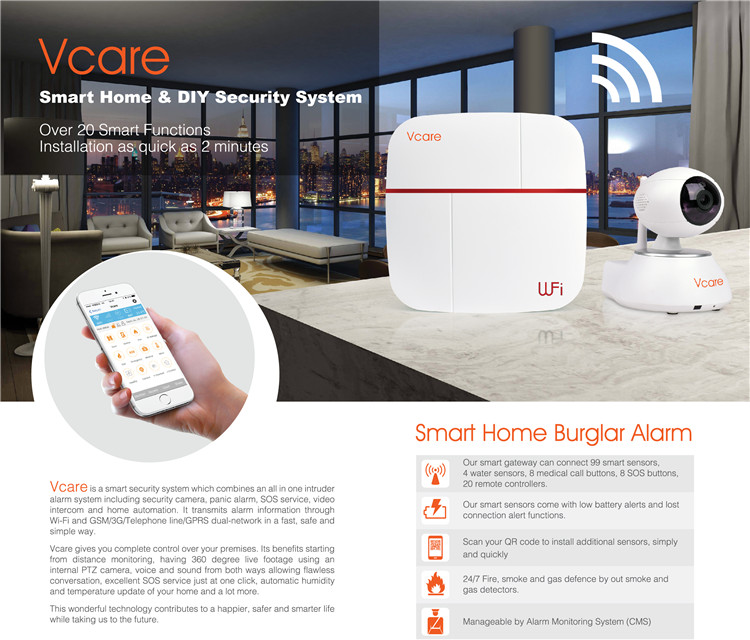 Vcare gives you complete control over your premises. Its benefits starting from distance monitoring, having 360 degree live footage using an internal PTZ camera, voice and sound from both ways allowing flawless conversation, excellent SOS service just at one click, automatic humidity and temperature update of your home and a lot more.
This wonderfull technology contributes to a happier, safer and smarter life while taking us to the future.
Our Smart Gateway can connect 99 smart sensors, 4 water sensors, 8 medical call buttons, 8 SOS buttons, 20 Remote controllers.
Our smart sensors come with low battery alerts and lost connection alert functions.
Scan your QR code to install additional sensors, simply and quickly.
24/7 Fire, smoke and gas defence by our smoke and gas detectors.
Manageable by Alarm MOnitoring System (CMS).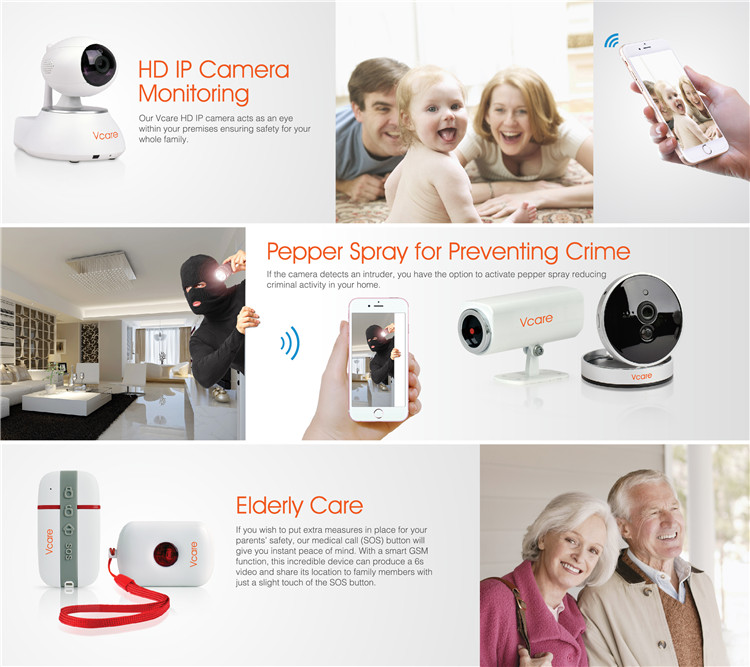 HD IP Camera Monitoring

Our Vcare HD IP camera Vcam acts as an eye within your premises ensuring safety for your whole family.
Pepper Spray for Preventing Crime

If the camera detects an intruder, you have the option to activate pepper spray reducing criminal activity in your home.
Elderly Care

If you wish to put extra measures in place for your parents' safety, our medical call (SOS) button will give you instant peace of mind. With a smart GSM function, this incredible device can produce a 6S video and share its location to family members with just a slight touch of the SOS button.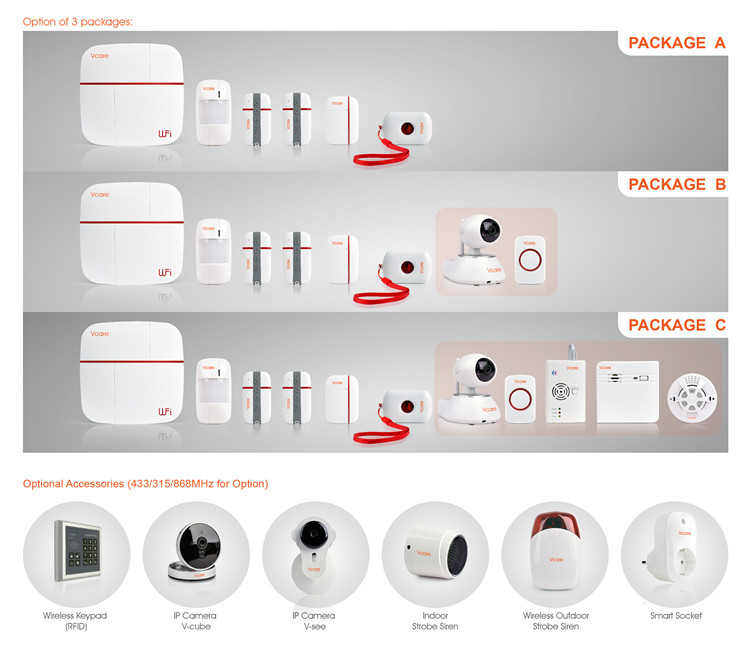 Option of 4 versions:
Wi-Fi Smart Alarm System
Wi-Fi + GSM Smart Alarm System (433Mhz/868Mhz for optional)
Wi-Fi + 3G (WCMDA) Smart Alarm System
TCP/IP + GSM Smart Alarm System
Product Description
WIFI & GSM Dual-Network
Integrated IP camera to the same android and iOS app.
Low battery alert & sensor status self-detection
Internal Antenna
99 Wireless zones
Scan QR code to add more sensors, more simple and faster
It tells you the door is open or close, hear what's happening in the house by high quality audio, and motion detecting etc.
Main features
1. It's able to work together with iOS, android apps on your smart phone.
2. It's able to add maximum 100 users.
3. Comes with 3 SMS text message numbers and 3 call numbers.
4. Comes with 99 wireless zones, 8 fire alarm zones, 8 emergency zones, 8 medical calls, 4 water leakage zones, and 2 wired zones, 20 remote controllers.
5. Adding extra sensors by scanning QR code, it's more easy and convenient.
6. Comes with Chinese, English, Russian, Spanish, German,and French languages.
7. Two-way communication.
8. With video monitor
9. Built-in timely arm, disarm and setup home mode function. (maximum 3 different time.)
10. With self-detecting temperature, humidity and be able to setup over-temperature alert.
11. Wi-Fi failure or GSM network failure alert
12. Door/window open alert
13. Monitor the status for the sensors.
14. Remind of the sensors with low battery
15. Delay alarm, delay arm and delay disarm (0 to 99s for optional)
16. The ringing time of the siren is able to DIY setup.(0 to254s or keep warning)
17. With wireless emission function, control 99 wireless sirens.
18. Remote control via text message and phone keypad.
19. With Home mode setting
20. 10s DIY voice record.
21. External power fail or recovery remind function.
22. Siren remind when arming, disarming by remote control
23. SMS remind when arming, disarming by remote control


Specification:
Model No.: Vcare
Power Supply: DC12V1A
Battery: 7.4V, 800MA
WiFi: IEEE 802.11b/g/n.2.4GHz
GSM : 850/900/1800/1900Mhz
Standby Current: ≦80mA
Alarm Current: <200mA
Internal Siren: ≧80db
Expandable Accessories: 99 sensors, 20 remote controllers, 8 medical call buttons, 8 SOS buttons, 4 water sensors, 8 fire/gas sensors.
Radio Frequency: 433Mhz or 868Mhz (new)
Housing Material: ABS
Operation Condition: Temperature: -20℃ ~+55℃
Relative Humidity: ≦85% (non-condensing)
Control Panel Dimensions: 145(L)*145(W)* 30(H)mm
hot key:
Security System,Vcare Smart Home,WiFI alarm, Smart Wifi Alarm, WiFi & GSM alarm
*

Indicated required field
Inquire: Smart Alarm Systems Vcare 2
*

First Name:

Please fill in your First Name

*

Last Name:

Please fill in your Last Name

Company name:

Please fill in your company name

Telephone number:
Mobile phone number:

Please fill in your telephone number

*

E-mail:
Country:
Address:

*

Inquire intention description:
Please fill in the quantity and description of

Inquire

products for uniform stocking.